Every bachelor wants to experience the proper send-off when they're about to get married. The thing is, what works for one bachelor may not be ideal for another. Thankfully, the world is full of vibrant, exciting, and eclectic cities that offer something for everyone. Every corner of the globe hides a nugget of entertainment designed for a day of thrills and an evening affair of debauchery.
From the desert lands of the United States to the stunning canals of the Netherlands, party-goers have an assortment of choices. These cities represent the seven best bachelor party cities in the world, each catering to a groom looking for a boisterous salute to the end of their single life.
Las Vegas, NV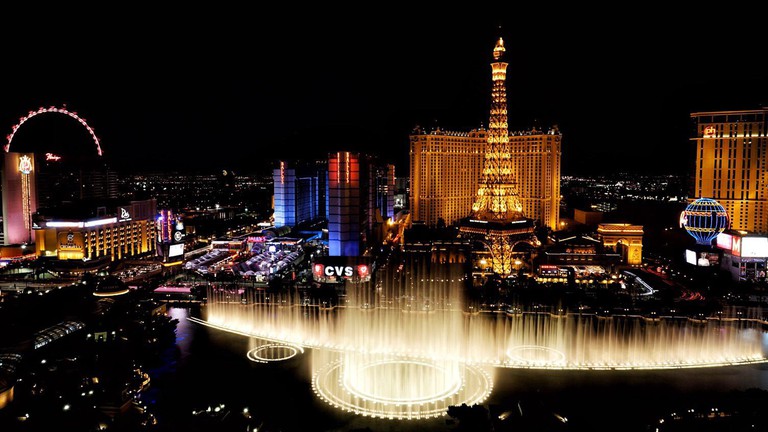 Las Vegas may be tucked in the distant deserts of the United States, but it still brings the entertainment. In fact, it may be because of its isolation that Vegas became such a self-contained party city. Few places in the nation can match the energy radiating from the five-mile stretch of casinos, nightclubs, restaurants, and, of course, strip joints.
Though Vegas may suffer a little from its lack of water and beachside entertainment, the outskirts of the city offer plenty to enjoy during the day. ATV rides across the Valley of Fire, helicopter tours of Lake Mead, ample opportunities to fire off machine guns, and cruises past Red Rock in your choice of luxury vehicle are adrenaline-pumping starts to any bachelor party. Of course, you can always stick to the Strip and enjoy a Dayclub.
For food, the trick about Vegas is to be mindful of the high-priced establishments. Unless it's a location like Hakkasan, the rave reviews may be more about nostalgia of the joint. You can easily grab an affordable and delicious meal on the Strip at a casual restaurant.
The true appeal of Sin City, though, is what happens when the sun sets. Imagine a city that, everywhere you turn, has something to delight and entertain. From Mandalay Bay on the south end of the Strip to Downtown Las Vegas topping off the North End with classic establishments, there is no shortage of fun. Strip clubs and after-hour joints keep the party going until the wee hours in the morning, but with "girls to your door" services, the party doesn't have to stop just because the clubs shut down.
What Makes Las Vegas Unique:
It offers a blend of everything there is to enjoy in life
There's no worry about being too far from the party
The desert provides its own brand of fun
There's entertainment, 24/7
Accommodations are luxurious and finding a deal can be easy
Montreal, Canada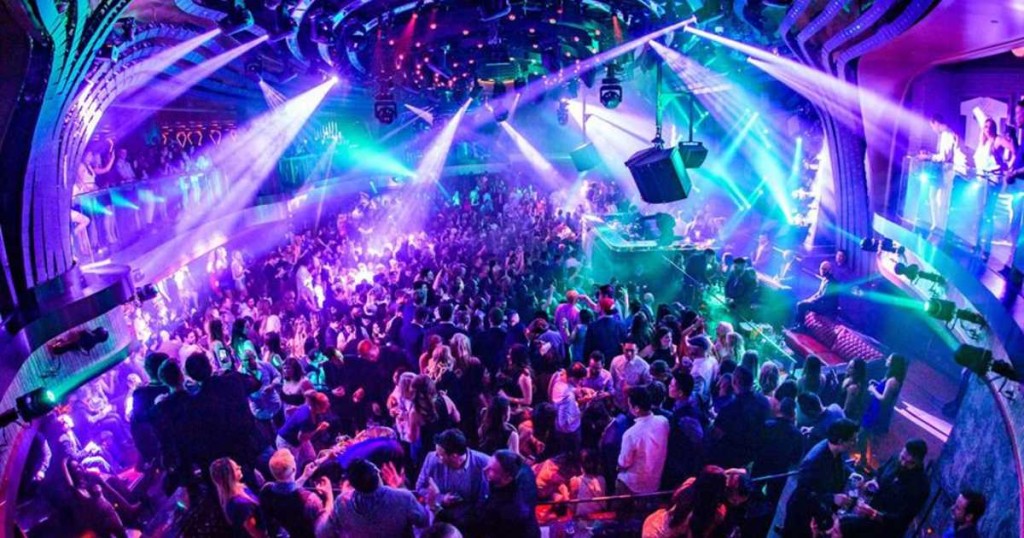 There's a reason Montreal earned the nickname of "Sin City of the North." Take Las Vegas and stick it amidst the history and beauty of Canada, and you pretty much have Montreal. Like Las Vegas, Montreal is brimming with entertainment, whether the sun is shining or the moon is full. You can start your day waking up in a luxury suite, gear up for some white-water rafting, throw a few axes, and grab a casual or elegant bite to eat before the real fun even starts.
Montreal is a city steeped with history, which is where it excels above Las Vegas and other party cities. Just minutes from the heart of the party are the cobblestone streets of Old Montreal. If you enjoy a little detour into the past, there's plenty to see on a quick stroll through these historic streets, including the Basilique Notre Dame.
When it comes time to reenergize for the evening, Montreal is full of eateries pulled from all over the world. These aren't your typical chain restaurants touting authentic cuisine. Real Italian, French, and Asian chefs have set up shop in the diverse city, and each eatery you see is more delicious than the last.
Come nightfall, you'll want to return to the action, particularly to jump onto the dance floor of one of the many available nightclubs. Montreal has most cities beat with its selection of nightlife, with an assortment of nightclubs to cater to all tastes. These extravagant joints employ the best in musical entertainment and were designed by the industry's sharpest minds. The city's strip clubs aren't far behind, either, though their interior designs aren't what you'll be gawking at. Strippers in Montreal are an entirely different breed and will surely have you digging for singles to ensure the entertainment doesn't stop.
What Makes Montreal Unique:
History and entertainment are within minutes of each other
After-hours parties can go on until 3 AM
Boating activities available nearby
Cannabis laws are extremely lax
Full contact lap dances
High exchange rate gives you more for your buck
Santo Domingo, Dominican Republic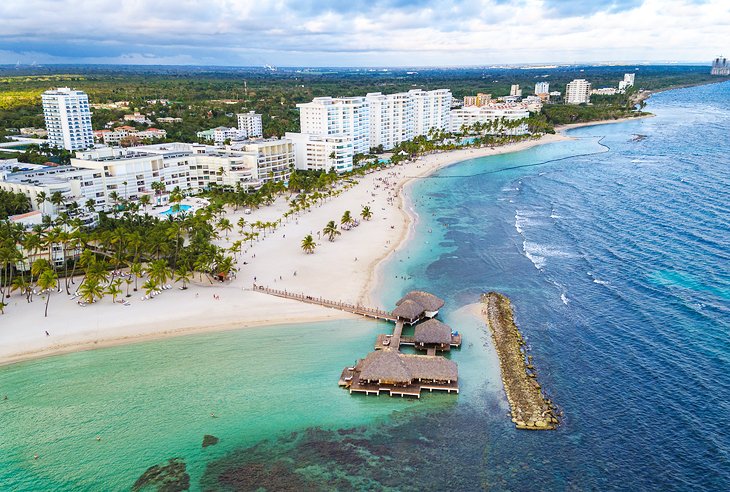 Only a place named the "Gateway to the Caribbean" would offer such breathtaking views of the crystal blue waters. In fact, it's the Dominican Republic coastline that will serve as the focal point of a Santo Domingo bachelor party. If you don't mind getting a little wet, you'll find there's plenty to enjoy in this sunny city.
Before the sun sets and the party really starts, bachelors can embark on high-energy adventures on the Caribbean waters. Waterskiing and jet packs are a riot, and private booze cruises allow you to enjoy the tropical sun with a frosty beverage in hand. Into more of a subdued experience? There's nothing wrong with chartering a fishing boat for your big day. You can also keep the party on land with a DJ-hosted pool party or a trip to an opulent cigar lounge.
When the lights kick on throughout the city, it's time for the evening send-off. In Santo Domingo, it's a night you won't forget, no matter how much liquor you consume. Like most cities that thrive on their nightlife, Santo Domingo has nightlife tours to take party-goers between multiple venues. It's the best way to enjoy every facet of the city, all from the comfort of a limousine. Enjoy a nightclub crawl and top the evening off with a stop at a strip club, where the friendliest girls the DR will be waiting to top of your evening.
While Santo Domingo is very welcoming to outsiders, you'll want to have a local join your group. Get buddy-buddy with another party so you can be sure to avoid some of the seedier locations.
What Makes Santo Domingo Unique:
Its nightlife is multifaceted and caters to a diverse crowd
Proximity to the Caribbean expands daytime options
Caribbean girls are incredibly friendly
The Caribbean views are unmatched
Cancun, Mexico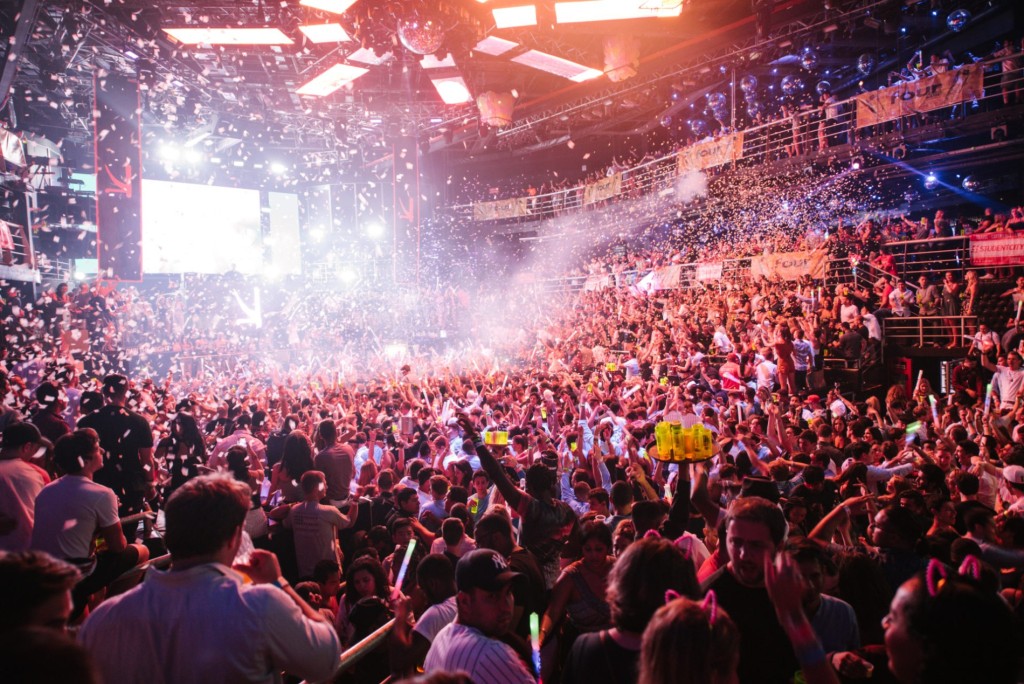 It was the destination that every senior class wanted to go to. Now that you're all grown up, why not properly relive those days. Everything about Cancun is sexy. The girls, the locations, the beachside views – there is nowhere you can look without being awestruck by something enticing.
The party atmosphere knows no bounds in Cancun. Coupled with affordable everything, it's too easy to have an incredible time in this Mexican paradise. That it's sunny year-round only further solidifies Cancun as a suitable bachelor party destination.
Before getting into the core elements of your bachelor party extravaganza, it's vital to talk about the food. Despite being a destination for upper-class American teenagers, Cancun is very easy on the wallet and very generous to the tastebuds. All locally cooked cuisine is to-die-for. Of course, the bulk of what you'll find are local favorites, so you may have to come out of your comfort zone for a few things. But everything will be worth the culinary adventure.
So, it's no secret that Cancun is a party destination for people all over the world. When planning a bachelor evening at one of its many nightclubs and booking your hotel, that's important to note. Be mindful not to book your trip during Spring Break. You'll be surrounded by loud, obnoxious high schoolers and perpetually drunk college students.
Clubs like Congo and Coco Bongo fuel the evening entertainment with flashing lights, an open dance floor, and plenty of rhythmic music. The girls are very friendly, especially if they're from out of town, so expect to have a dancing partner for much of the evening.
What Makes Cancun Unique
Year-round beautiful weather
Affordability is through the roof – from food to entertainment
Its location allows for an equal amount of thrilling day- and nighttime activities
Casinos cater to first-time visitors
Bangkok, Thailand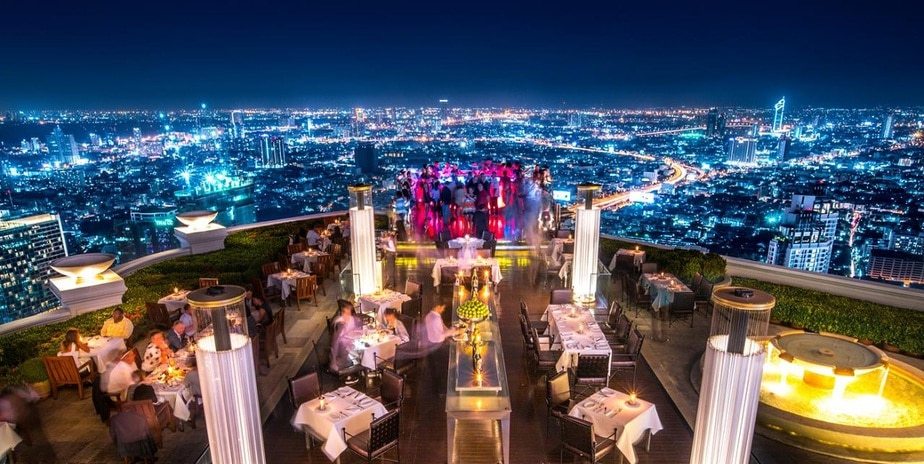 You've heard the stories, and now you absolutely have to see if Bangkok is all the craze. We can say with certainty, it is. On top of being a fascinating city to visit, Bangkok offers quite a bit in the way of entertainment. While some of the stories you heard may be exaggerated, there's a lot going on that will surely enhance your experience.
Among Bangkok's most attractive offerings are poolside daytime parties, where the drinks and bikini-clad women are abundant. Since the weather is almost always at a comfortable temperature, it's rare that you won't be able to go for a swim. Even when much of the country is shivering, Bangkok invites party-goers to shed the jacket and enjoy the warm water.
For much of your entertainment, you can simply meander up and down Soi Cowboy Street. This stretch of Bangkok is lined with bars, strip clubs, and so much neon you'll need sunglasses. There isn't a night during the week where Soi Cowboy isn't a brightly lit metropolis of fun. You may not get the luxurious, VIP experience you expect in cities like Montreal and Las Vegas, but it's hard not getting sucked into the energy
One thing you'll have to give up in Bangkok is your luxury transportation. Traffic is terrible, so you'll have to spring for something a little less wide. A few companies do offer luxury minivans, though that doesn't have the same ring or appeal as a stretch limo. Transportation is easily the city's weakest point, but with so much to offer, it's hard to get hung up on a very solvable issue.
What Makes Bangkok Unique
It's a new, fascinating culture for many to explore
Your money will go far
There is no wintry offseason
Accommodations are easy to find at reasonable costs
Paris, France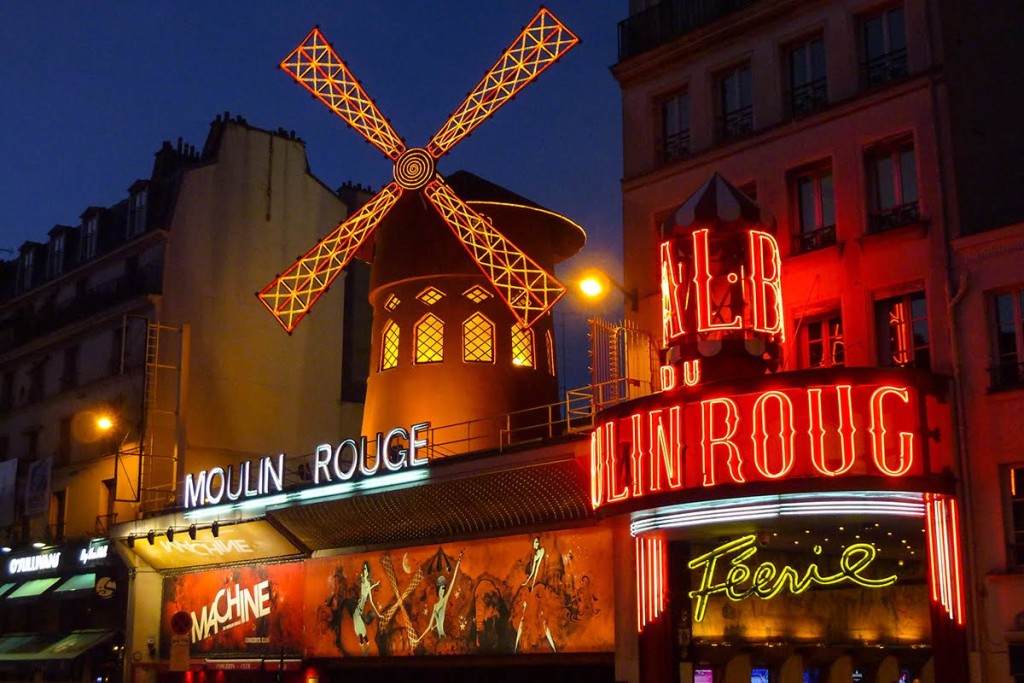 It's fitting that the City of Love would be an ideal destination for a bachelor party. Being in France, you may feel you have to throw a classy experience, but Paris is capable of matching – and sometimes exceeding – the expected good times of a memorable bachelor party. You may also think it's a city better suited for bachelorette parties, but don't you worry. Come nightfall, Paris breaks out the thrills, the alcohol, and the good times.
One of the best things about Paris is that it's very self-contained. There's plenty to see and do on the outskirts of the city, but if you wanted to stay in the heart of Paris, you can do so without missing anything. When you're talking about Paris, it's difficult not to talk about food. From traditional refined fair to exquisite casual dining, the city has a vast assortment of options. You won't go hungry, and you're never too far from a refreshing drink.
Of course, we're talking about a bachelor party, so we must touch on the city's assortment of nightlife options. You'll find the nightlife is a little tamer compared to cities like Las Vegas and Montreal, but you'll find a few fresh spots boasting active dance floors. The strip clubs may be a little lacking and feel cheesier than sexy, but there are quite a few erotic shows that make up for it.
Theatre Chochotte, however, is a gem that every bachelor party should find its way to. A mingling of attractive, friendly girls, good food, and an upscale atmosphere blows most Parisian erotic clubs and shows out of the water.
What Makes Paris Unique
Upscale evening entertainment
Daytime activities are geared towards fun-loving crowds
Its nightlife welcomes party-goers that enjoy a subdued atmosphere
Accommodations are posh and overly comfortable
Amsterdam, Netherlands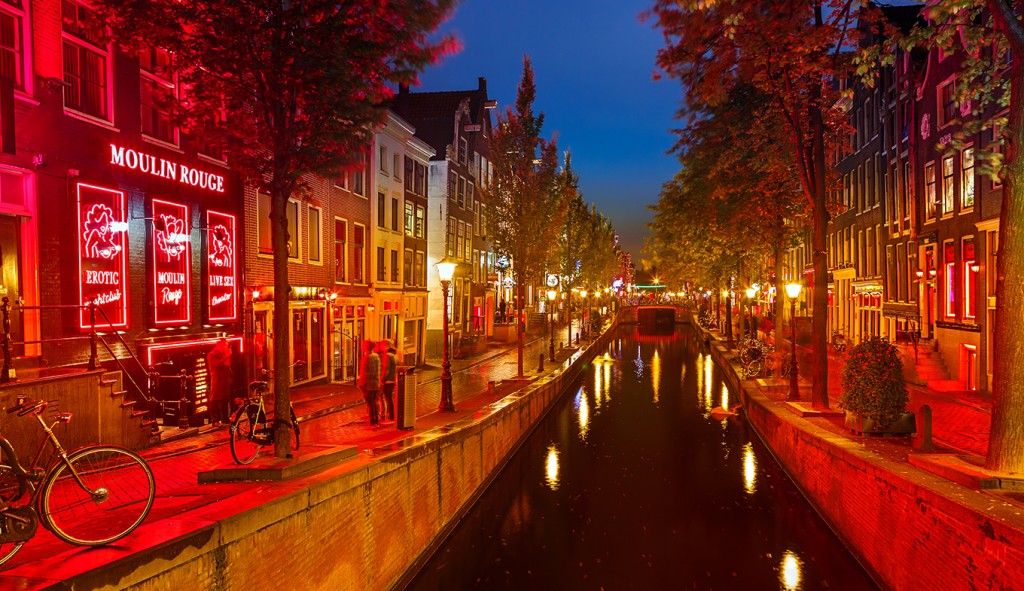 If there's one thing you know about the Netherlands, it's that Amsterdam knows how to party. You may have even heard of the city's infamous Red Light district, which makes it a very enticing destination for a bachelor party. Before we dive into that, though, let's not overlook Amsterdam's ability to keep a party going from morning to the following morning.
During the day, you'll find a typical assortment of activities that may or may not excite. Archery and go-karting may appeal to the kid in you. There are plenty of attractions, like the NEMO Science Museum and Van Gogh Museum, but those, of course, speak to a very specific crowd. It's the "Beer Bike" that you may want to hop onto, as it provides a glimpse at the city's beauty while allowing you to enjoy a cold one with friends.
Come nightfall, the bars kick up the entertainment, and the nightclubs, like Escape, dish out a mix of music and dancing. There are quite a few nightclubs to choose from in Amsterdam, and each one is a serviceable way to close out life as a single man. Expect plenty of tourists to join in on your party.
If you're in the mood for something truly off-the-wall, then you'll want to head down to De Wallen, infamously known as the Red Light district. The "banana show," which the Banana Bar earns its name from, is something that must be seen to be believed. It's easy to get into a lot of mischief in the Red Light district, so pace yourself and know your limits. And the limits of your wall
What Makes Amsterdam Unique:
The Red Light district and the popularity of the "banana show"
Tame daytime activities that give no indication of the evening you can have
The city is incredibly open-minded
The 200-plus cannabis dispensaries (coffeeshops) near the Red Light district